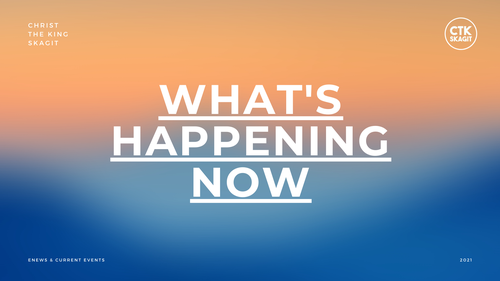 CTK Skagit is once again scheduled to host homeless families who are enrolled in Family Promise of Skagit County. In the past, we have hosted these guests (up to 4 families and 14 individuals) at our Mount Vernon Campus to feed them breakfast, dinner, and house them overnight. However, as Covid restrictions loosen the families are staying at the Family Promised Day Care Center in Sedro-Woolley.
We are seeking volunteers to:
Cook or Provide Meals
Serve Meals at the Day Center
Provide hope and encouragement
Stay over night as facility supervisors (actually the easiest duty)
Please consider serving Christ and the most vulnerable in our community by joining us May 30 - June 6 as our Church hosts Family Promise. For more information and to volunteer, please contact our Family Promise Coordinator, Meg Watkinson,
mmwatkion79@gmail.com
360-708-1288.
Senior Tuesday Volunteers Needed
We are looking for 4 to 6 Seniors who would like to volunteer to be a part o the Senior Tuesdays Leadership Team. New ideas are always welcome and encouraged. Senior Tuesdays will start up when we get the volunteers so don't wait! If you are interested, please contact Daryl Dickerhoof,
darhoof@comcast.net
or fill out a Connection Card.
If you are missing time to meet together with others for prayer and support we are starting a ladies evening small group. During this time we will share what God is doing in our lives, pray for and encourage each other. Starting May 3rd from 6:30-8:00pm at CTK Skagit.
Please contact Kim Burke at
burkerkj@aol.com
to sign up or if you have any questions.
Kids Ministry Volunteers Needed
CTK Skagit Kids is looking for volunteers for Toddler-5th grade. As our ministry continues to grow each week, we are praying for more volunteers who love Jesus, love kids, and could serve once-a-month. Volunteer levels range from just loving on little ones, to teaching a pre-prepared Bible lesson & craft! No previous experience necessary!
For more information contact
kammi@ctkskagit.net
New believers class with rick snodgrass
Pastor Rick, here. If you are a new Christian or you want more information before you make that decision, then we would like to invite you to an 8 week class intended to give you handles on what the faith walk is all about. It's been one of the most meaningful things I have ever done.
The class is starting on April 20th from 7:00-8:30pm, location TBD. For more information or to sign up please contact Rick Snograss
snodgrass.rick@gmail.com
At this time CTK YOUTH is not offering weekly services but rather weekly YOUTH Training Nights (YTN) where we can safely offer programming that follows local and state guidelines.

Any student 6th - 12th grade who is interested in helping build the local church with their individual skills and passions is invited to join in!

Wednesdays Nights - 6:30pm - 8:30pm