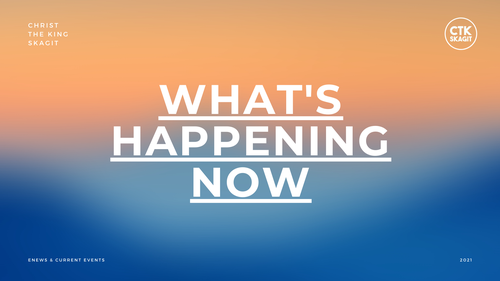 REFLECT: Revival of the woman's heart
LOCAL WOMEN'S EVENT
October 8th and 9th 2021
Friday 6:30pm-8:30pm
Saturday 9:30am-3:00pm
CTK Skagit Center
1000 Fountain St. Burlington, WA 98233
(suggested donation of $30)
Tickets and information;
http://infocusministries.org/reflect
Register today!
Women from all over the valley and beyond will be gathering for the revival of the women's heart! With transforming prayer & worship, inspiration from God's word, and much needed girlfriend time, this is a weekend you will want to be a part of!
Register HERE
Skagit Hikers invites new hikers to join us as we explore God's creation in the Pacific Northwest. Find us at our private Facebook group 'Skagit Hikers' or contact Bob Johnson by email and request to be added to the email list. Hikes are scheduled for first Saturday of every month for the remainder of the calendar year (with the exception of September hike on the 11th).

Contact: Bob Johnson - pointman.bj@gmail.com
Senior Tuesday is back! Senior Tuesdays create space for community and connection in our 55+ family.
Every 2nd & 4th Tuesday from 10:00am -12:00pm
Every 2nd & 4th Tuesday of every month we come together to read the word, eat, pray, potluck, worship, fellowship and more.
If you would like to become a part of Senior Tuesdays and/or be included on our email list please contact Daryl Dickerhoof at
darhoof@comcast.net
healing hearts ministries study
Healing Hearts Ministries International is a gospel centered, grace driven ministry that offers hope and healing in Jesus Christ through God's word to people who have been broken by sin.

We are offering a women's "Hem of His Garment" class starting in September

September 9th to November 18th
9:30am to 11:30am
CTK Skagit: Conference Room
*$25.00 book fee - register with Cheryl McNulty at 425-478-1483.
Youth Leaders Wanted

Are you passionate about young people growing in their faith? Do you feel called to invest into the next generation? Do you want to grow in your leadership skills?

We are looking for individuals and couples who will commit to investing into students for 3 - 9 months.

If you are interested or want to know more contact our Youth Pastors Dane and Jess Boffey!

Check out our Leader's Handbook for more details on expectations
FAMILY PROMISE of skagit valley
Volunteer Need Highlight:
Family Promise of Skagit Valley

CTK Skagit is once again stepping up to host homeless families who are enrolled in Family Promise of Skagit County.

In the past, we have hosted these guests (up to 4 families and 14 individuals) at our Mount Vernon Campus to feed them breakfast, dinner, and house them overnight. With the recent transitions our Family Promise guests will be staying at the Family Promised Day Care Center in Sedro-Woolley.

We are seeking volunteers to:
Cook or provide meals
Serve meals at the Day Center
Stay over night as facility supervisors (actually the easiest duty)
Provide hope and encouragement through conversation and prayer
We are trying to fill our weekend slots first:
Friday meals
Friday overnights
Saturday meals
Saturday overnights
Weekday meals
Weekday overnights
Please consider serving Christ and the most vulnerable in our community by joining us September 12 - September 19 as CTK Skagit hosts Family Promise. Your help is needed!

For more information and to volunteer, please contact our Family Promise Coordinator Meg Watkinson 360-708-1288
Our safety team is looking for potential new volunteers who thrive in observing the details and love protecting others.
Volunteer Requirements:
CTK Skagit background check
Availability for training
For more information on next steps for joining the Safety Team, contact Welcome Team Coordinator Katie.
Contact:
Katie Kunch
NEW Facility Volunteers Wanted!
We are building a new team to take care of our facility (inside and out!):
weekly cleaning
parking lot care
outside plant care
and more!
If you have a heart to serve and want to get more involved but don't know where, joining this new team will be a great step!
Contact:
Corey Smith
ZUMBA
Weekday mornings. For times ands days contact
Katie Gunderson
Located at CTK Skagit in the South Auditorium
A series of sessions exploring the Christian faith
New to faith?
Alpha is a fun interactive course aimed at teaching the basics of Christianity primarily for those interested in exploring Christianity for the first time or new believers wanting a foundation in the Christian faith.

The course is 10 weeks long and will be conducted at the host's home on Tuesday evenings from September 14th through November 16th with a celebration party on November 30th.

The course will be followed up with an optional Bible study in the new year.
Seating is limited to 8 guests so sign up today!

For information you may contact the hosts Bob and Linda Johnson on 509-845-2933 or 509-628-0409, respectively.
Loss of Spouse Session & Ongoing Bible Study

Loss of Spouse Session
September 18th, 2021
Saturday 9:00am - 12:00pm
Workbook fee $10

A one day seminar dealing with the death of a spouse. This seminar also acts as an introduction to the 13-week GriefShare program starting September 20th. To register please contact Bonnie Loomis

13-Week Support Group
Starts September 20th
Saturday 9:00am - 12:00pm
Workbook fee $20

This 13-week support group for anyone who has experienced the death of a loved one. To register please contact Bonnie Loomis or go to the GriefShare website.
12 Step Recovery Program
Friday
6:00pm - 9:00pm
CTK Skagit: South Auditorium
Weekly bible studies
Sunday at 12:45pm-2:00pm
Middle School meets at CTK Skagit in Conference Room
High School meets at CTK Skagit in Upstairs Offices
Youth Night Every Wednesday
Middle School & High School
7:00pm - 8:30pm
If you are missing time to meet together with others for prayer and support we are starting a ladies evening small group. During this time we will share what God is doing in our lives, pray for and encourage each other. Starting May 3rd from 6:30-8:00pm at CTK Skagit.
Please contact Kim Burke at
burkerkj@aol.com
to sign up or if you have any questions.