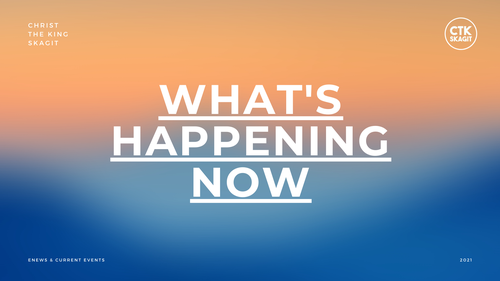 the return of the small groups
We're back! God created us for relationships.
Through Jesus' model of loving God and loving others in intentional relationship, people came to know Him and the Father, their lives were radically changed and disciples began making disciples. The world was never the same again
.
Jack Lawlor will be holding interest meetings for anyone interested in joining, hosting, or leading small groups.
The first meeting is July 25th after the 11am service
The second meeting is August 8th after 11am service

How to get involved;
*Join- show up and take part in building relationships
*Host- provide a space for a group to meet.
*Lead- organize, invest, train, be trained, and provide leadership for a group.
Skagit Hikers invites new hikers to join us as we explore God's creation in the Pacific Northwest. Find us at our private Facebook group 'Skagit Hikers' or contact Bob Johnson by email and request to be added to the email list. Hikes are scheduled for first Saturday of every month for the remainder of the calendar year (with the exception of September hike on the 11th).

Contact: Bob Johnson - pointman.bj@gmail.com
CTK Skagit Kids & Youth are proud to present:
Summer Conferences
Summer J.A.M
PreK - 5th Grade
August 13th - 14th

The Youth The Future
6th - 12th Grade
August 19th - 21st

Thanks to all the wonderful generosity we have currently exceeded our goal to raise over 20,000 to make it possible for kids and youth to participate in this event free of charge.
Senior Tuesdays create space for community and connection in our 55+ family.
Every 2nd & 4th Tuesday of every month we come together to read the word, eat, pray, potluck, worship, fellowship and more.
If you would like to become a part of Senior Tuesdays and/or be included on our email list please contact Daryl Dickerhoof at darhoof@comcast.net
healing hearts ministries study
Healing Hearts Ministries International is a gospel centered, grace driven ministry that offers hope and healing in Jesus Christ through God's word to people who have been broken by sin.

We are offering a women's "Hem of His Garment" class starting in September

September 9th to November 18th
9:30am to 11:30am
CTK Skagit: Conference Room
*$25.00 book fee - register with Cheryl McNulty at 425-478-1483.
ctk skagit christmas choir
Christmas Choir Sign Ups Coming Soon!
Although it is summer, the CTK Skagit Christmas Choir is already looking ahead. 25-30 singers are needed from all ages (13 years -113 years!). Rehearsals will start in October with a tentative 6-8 performances in December planned. For more information contact:
Mike Rice
Calling all bakers! We need YOU to help bake over 300 cookies to serve at our Summer Kids & Youth Conferences.
If 12 people sign up to bake 2 dozen cookies each we will be covered!
If you love baking and are willing to donate the time and your favorite recipe of cookies sign up with Penny Andrukat today!
Contact:
Penny Andrukat
Our safety team is looking for potential new volunteers who thrive in observing the details and love protecting others.
Volunteer Requirements:
CTK Skagit background check
Availability for training
For more information on next steps for joining the Safety Team, contact Welcome Team Coordinator Katie.
Contact:
Katie Kunch
Our coffee team needs at least 4 more volunteers to run smoothly every Sunday.
Volunteer role includes:
Set up & tear down
Brewing coffee
Cleaning/sanitization
If you love helping create a welcoming space and serving others this team is for you!
Contact:
Allison Morelean
Kids Ministry Volunteers Needed
CTK Skagit Kids is looking for volunteers for Toddler-5th grade. As our ministry continues to grow each week, we are praying for more volunteers who love Jesus, love kids, and could serve once-a-month. Volunteer levels range from just loving on little ones, to teaching a pre-prepared Bible lesson & craft! No previous experience necessary!
For more information contact
kammi@ctkskagit.net
ZUMBA
Tuesday-Friday
9am-10am
Located at CTK Skagit in the South Auditorium
12 Step Recovery Program
Friday
6:00pm - 9:00pm
CTK Skagit: South Auditorium
Weekly bible studies
Sunday at 12:45pm-2:00pm
Middle School meets at CTK Skagit in Conference Room
High School meets at CTK Skagit in Upstairs Offices
Youth Night Every Wednesday
Middle School & High School
6:30pm - 8:30pm
If you are missing time to meet together with others for prayer and support we are starting a ladies evening small group. During this time we will share what God is doing in our lives, pray for and encourage each other. Starting May 3rd from 6:30-8:00pm at CTK Skagit.
Please contact Kim Burke at
burkerkj@aol.com
to sign up or if you have any questions.