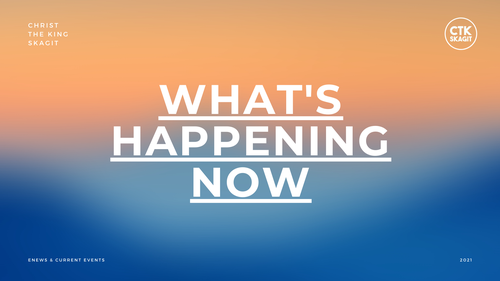 CTK Skagit Kids Presents: "A Journey Through Bethlehem"
Winter J.A.M. (Jesus And Me)
Saturday, December 11th
9:30am - 5:30pm - Main Event
6:00pm - 8:00pm - After Party - Movie, Games, & Hot Cocoa Bar
Pre-Register for CTK Skagit Kids events HERE
Ladies Christmas Brunch

For: All women of any age

When: Saturday December 4th
9:30am - 12:30pm

Where: CTK Skagit: Main Auditorium
CTK Special Christmas Event
Special Livestream Showing

Saturday, December 11th
CTK Skagit: Main Auditorium
6pm - 8pm
FREE ENTRY: with suggested donated toy (New toy) for our Toy drive for families impacted by flood damage in Sumas

To launch the Christmas season this December, The Chosen has created a special episode about the birth of Christ through the eyes of Mary and Joseph. You'll also see an extraordinary lineup of musicians perform both new and classic Christmas songs from the set of The Chosen, including: Phil Wickham, For King & Country, Brandon Lake, Maverick City Music, Cain, Matt Maher, Bryan & Katie Torwalt, Jordan Feliz, We The Kingdom, The Bonner Family, Leanna Crawford, Dawson Hollow, and One Voice Children's Choir.

This is the perfect opportunity to bring friends and family, including those who haven't seen The Chosen, for a unique Christmas experience.
Current midweek Ministries/activities
Senior Tuesday is back! Senior Tuesdays create space for community and connection in our 55+ family.
Every 2nd & 4th Tuesday from 10:00am -12:00pm
Every 2nd & 4th Tuesday of every month we come together to read the word, eat, pray, potluck, worship, fellowship and more.
If you would like to become a part of Senior Tuesdays and/or be included on our email list please contact Daryl Dickerhoof at
darhoof@comcast.net
Our safety team is looking for potential new volunteers who thrive in observing the details and love protecting others.
Volunteer Requirements:
CTK Skagit background check
Availability for training
For more information on next steps for joining the Safety Team, contact Welcome Team Coordinator Katie.
Contact:
Benjamin Wright
Weekday mornings.
Located at CTK Skagit in the South Auditorium
For times ands days contact
Katie Gunderson
Youth Leaders Wanted
Are you passionate about young people growing in their faith? Do you feel called to invest into the next generation? Do you want to grow in your leadership skills?
We are looking for individuals and couples who will commit to investing into students for 3 - 9 months.
If you are interested or want to know more contact our Youth Pastors
Dane
and
Jess Boffey
!
Two More Youth Nights This Year
December 1st & 8th
Middle School & High School
6:00pm - 8:30pm
For more info contact
Dane Boffey
Grief Share Study
Monday
6:30pm - 8:30pm
CTK Skagit: Conference Room
For more information contact:
Bonnie Loomis
We are looking for individuals who love technology and specifically helping to create a presence for those unable to attend online and for those who attend in-person
Graphics Operator:
Volunteer roles:
Present lyric slides with worship
Present fill-in notes and scripture during sermons
Work with the Technical Director to build the team
Contact: Trent Hendricks or Dane Boffey for more info!
Livestream Producer:
Volunteer roles:
Creatively guide camera crew
Call and change shots live
Work with the Technical Director to build the team
Contact: Trent Hendricks or Dane Boffey for more info!
NEW Facility Volunteers Wanted!
12 Step Recovery Program
Friday
6:00pm - 9:00pm
CTK Skagit: South Auditorium
For more information contact:
Joanne Hill
If you are missing time to meet together with others for prayer and support we are starting a ladies evening small group. During this time we will share what God is doing in our lives, pray for and encourage each other. Starting May 3rd from 6:30-8:00pm at CTK Skagit.
Please contact Kim Burke at
burkerkj@aol.com
to sign up or if you have any questions.
Men's Bible Study
Every Thursday in our CTK Skagit Conference Room
Thursday, December 2, 7–8:30pm
For more information contact:
Mark Humble
We are building a new team to take care of our facility (inside and out!):
weekly cleaning
parking lot care
outside plant care
and more!
If you have a heart to serve and want to get more involved but don't know where, joining this new team will be a great step!
Contact:
Katie Kunch
Audio Engineer for worship services
Our Audio Engineer team is looking for an individual to volunteer 1x/month.
Experience not needed but helpful. Additional training available!
Volunteer roles:
Mix and monitor the sound for Sunday mornings
Thursday evenings (varies based on team) and Sunday mornings (6:45am - 12:15pm)
Contact:
Elijah Tadema